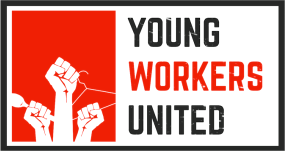 Executive Director
San Francisco, CA

Open until Filled
Preference given to applications received by August 1.
Organizational Description
Young Workers United (YWU) is dedicated to improving the quality of jobs for workers in SF. We raise standards in the low-wage service sectors in San Francisco through worker & student organizing, grassroots advocacy, leadership development, and public education. We advance economic justice for young & immigrant workers through strategic partnerships with workers center & immigrants' rights groups. We are a dynamic team of young organizers and we have an active membership base of dedicated workers and we seek an experienced leader to build our capacity in this critical moment when workers' rights are on the upswing but also face more and more threats. YWU helps hundreds of workers directly and is a critical voice in advancing policy changes that help the whole community.
Young Workers United is seeking a new bilingual (English/Spanish) Director to lead our team to carry out our vision. We have stable budget and a strong successful model that has a great reputation and credibility. We are poised to grow and support more workers. The right candidate for Executive Director will allow YWU to grow our team, expand our fundraising strategies, and strengthen our organizational leadership structures to maximize our program successes.
Responsibilities will include:
Directing the organization in its strategic vision to empower workers and strengthen enforcement mechanisms at the local and state levels

Manage contracts and grants

Expand fundraising capacity, including grant development and donor relationships

Build budget from $200,000 to $300,000 within 2 years

Write approximately 5-8 grant proposals and related grant reports per year

Cultivate relationships with partners and participate in a leadership role with several coalitions

Build skills of the Board of Directors for management oversight and strategic direction

Develop clear goals for campaigns and assist staff and members in achieving them

Build mechanisms to strengthen membership participation, volunteer capacity and leadership roles

Work collaboratively with staff, members, volunteers, and board to carry out our mission
Ideal candidate will demonstrate:
Experience organizing and advocating on behalf of low-wage workers, people of color, women, LGBTQ, and immigrants. At least 3-5 years' experience working in labor and/or community organizing

Significant experience coordinating teams; Ability to lead staff, members, volunteers, and board of directors.

Skills to lead administrative, budget and personnel management of a non-profit organization

Experience with fund development, building long-term donor relationships, and grant-writing

Experience structuring strategic vision, leading organization, leading coalition building.

Ability to work under pressure and with minimal supervision; must be well organized, persistent, and self-motivated.

Bi-lingual Spanish/English required, live interpretation and translation skills preferred

Commitment to worker and member leadership in all aspects of the organization's work

Commitment to gender, racial, social, and economic equality

Dedication to improving the position of working people through direct action, organizing, and legislative campaigns.

Strong organizational, writing, communication and interpersonal skills.

Knowledge of local policy campaigns and experience with campaign planning and development
Additional preferred qualifications:
Familiarity with San Francisco/California labor law

Experience working and/or organizing in restaurants or other service sector jobs

Experience working with multiracial, low-wage communities.

Experience with popular education teaching and curriculum development

Experience with consensus decision-making and meeting facilitation
The position is full time and the office is located in San Francisco.
Full time salary range is between $55,000-$65,000 depending on experience. Benefits include health insurance, vacation and sick time.
Position is open until filled; applications received sooner will get preference.
Women, people of color, and QTPOC encouraged to apply!
Please email your cover letter, resume, three references and writing sample to:
youngworkersunited@gmail.com
WHEN APPLYING: Be sure to indicate that you saw this information at UNIONJOBS.COM.