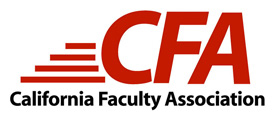 Legislative Advocate
Based in Sacramento, CA

CFA is a union of 28,000 faculty members, librarians, counselors and coaches of the California State University (CSU) system. In classrooms on the 23 CSU campuses, CFA members work hard to teach our students the critical thinking skills, the technical know-how, and the cultural insights they need to be thoughtful, productive, and artistic participants in our society.
CFA is one of the largest higher education labor unions in the US. In its role as the exclusive collective bargaining representative, CFA negotiates a contract with the CSU administration that promotes academic freedom, upholds faculty rights, delivers financial protection for the faculty, and promotes faculty participation in the governance of the CSU.
CFA has an explicit commitment to racial equity throughout the entire organization and is seeking candidates with a strong knowledge and background in racial equity work. Candidates who have experience in engaging in racial equity work (formally or informally) and can translate that into the range of job responsibilities listed below are strongly encouraged to apply.
CFA is proud to be a member run union and believes in employing hard-working and creative staff whose talents complement those of our elected leadership. For more information about the CFA, visit our website at www.calfac.org.
LEGISLATIVE ADVOCATE
CFA's Legislative Advocate must have substantial experience lobbying and/or working in the California State Legislature, and implementing a legislative program around organizational goals, preferably in a union setting. A minimum 5 years of legislative experience required. Other responsibilities include:
Take lead role in all aspects of the legislative process, including identifying and monitoring all proposed legislation that would affect higher education and labor.

Prepare, lobby and deliver testimony on pending legislation and communicate CFA Board approved positions to the Legislature, Governor and other interested parties.

Within the member governance structure, develop and draft legislation, and devise and implement strategies to advance the CFA's legislative agenda.

Represent CFA in meetings of ad-hoc legislative coalitions and community partners.

Organize and coordinate CFA Lobby Day in Sacramento with other staff.
The position of Legislative Advocate requires a high level of judgment and ability to take initiative and work independently; the Legislative Advocate must be able to handle multiple projects simultaneously and meet strict deadlines. Additionally, the Legislative Advocate must:
Work as a member of a Governmental Relations (GR) team, reporting to the GR Director.

Possess a deep understanding of the California State Budget process.

Possess excellent writing, verbal and analytical skills.

Have extensive knowledge of the California legislative and budget process.

Provide support to CFA members, leaders and staff during legislative efforts.

Manage effective relationships with Legislators and professional colleagues.

Build and maintain productive relationships with CFA members and leaders.
Salary/Benefits/Other requirements: CFA offers a fully paid benefit package including medical, dental, vision and generous paid leave. This position is covered by a collective bargaining agreement; salary is commensurate with experience. Some travel required.
To apply, send cover letter and resume with references and two writing samples to:
searchcommittee@calfac.org
Interviews to begin early April, 2017.
CFA is an Affirmative Action Employer. Women, people of color, members of the LGBTQ community,
and people with disabilities are strongly encouraged to apply.
WHEN APPLYING: Be sure to indicate that you saw this information at UNIONJOBS.COM.