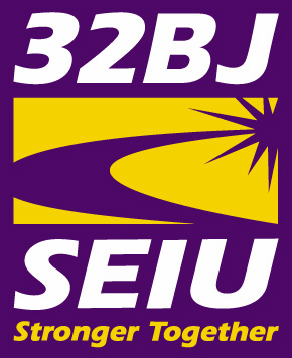 Civic Engagement Coordinator
Puerto Rico Campaign
Based at the New York City 32BJ headquarters, NY

(Qualified candidates must apply by April 1st.)
SEIU 32BJ represents 163,000 property service workers in eleven East Coast states and the District of Columbia. 32BJ has an aggressive organizing program aimed at raising standards for security officers, airport workers, cleaners, residential maintenance workers and institutional food service workers. 32BJ also has active political, legislative and electoral campaigns to support organizing, raising standards for low wage workers, winning commonsense immigration reform, fighting for racial justice, environmental justice and other social and economic justice policy initiatives. We are an affiliate of SEIU, the Service Employees International Union, which has 2.1 million members dedicated to raising industry standards, making life better for working families and our communities, and building a fair economy.
SEIU has 28,000 members in Puerto Rico, and thousands more members stateside with close family ties to the island. In May, SEIU passed a resolution that called for building a wider movement to win social and economic justice in Puerto Rico, in response to the increasing economic crisis on the island. The Civic Engagement Campaigns Coordinator will focus on supporting and driving SEIU's response to the Puerto Rican fiscal crisis and coordinating 32BJ's civic engagement work on the Puerto Rican crisis in key geographies.
Reporting to the Deputy Political Director for Civic Engagement, the individual will work with the staff and elected leadership of 32BJ and SEIU to coordinate campaign activities with local, regional and national partner organizations in the Vamos4PR network, geared toward mobilizing communities, activating voters, and winning changes that improve the lives of our members, the broader Puerto Rican community, and low and moderate income people.
The Coordinator will also support SEIU's Puerto Rico Task Force, which coordinates activities among SEIU locals to drive a unified program in support of economic justice in Puerto Rico.
This position is funded for one year, with a hope of ongoing funding moving forward.
The position is based at the New York City 32BJ headquarters, and will involve frequent travel throughout the Local's jurisdiction as well as occasional extended assignment throughout SEIU's geography
Key duties include, but are not limited to:
Planning and executing coalition strategies, events and actions around the Puerto Rican debt crisis;

Staffing SEIU's Puerto Rico Task Force to coordinate activities among multiple SEIU locals in support of economic justice in Puerto Rico;

Collaborating with national SEIU and other partners to deepen civic engagement and increase voter registration and participation in Latino and other communities;

Developing training materials to educate and involve 32BJ members and the broader community in social justice issues and civic engagement;

Representing 32BJ as needed with internal and coalition partners.
Qualifications:
Five years' experience in community and/or labor organizing and/or campaign work;

Fluency in Spanish;

Demonstrated leadership skills;

Effective judgment in handling relationships with other organizations and their leadership;

Excellent communication skills, including proficiency with social media;

Ability to organize and analyze data and communicate and apply that analysis in contributing to campaign plans;

Ability to develop and hold organizational relationships with 32BJ members, non-members, and stakeholders across the union;

Ability to travel frequently;

Willingness to work a flexible schedule including evenings, weekends and, on occasion, holidays;

Computer skills including Microsoft Office, Outlook, and simple databases.
32BJ provides competitive salary and a full benefits package including employer-paid family medical, dental and vision plans.
32BJ is an equal opportunity employer. People of color and women are encouraged to apply
Please send a resume and letter of interest to HR@seiu32bj.org. Please use "Engagement" in the Subject line of your email.
WHEN APPLYING: Be sure to indicate that you saw this information at UNIONJOBS.COM.