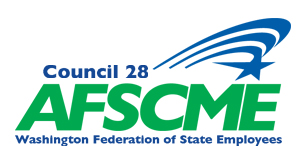 Public Affairs Assistant
Olympia, WA
WFSE Headquarters

Who We Are:
The Washington Federation of State Employees (WFSE) has a long history of fighting for workers' rights and employee benefits while tackling social justice issues with passion and energy. The WFSE, Council 28 has been operating in the state capital for over 72 years. Our staff fight for fairness and equality as well as ensuring the hard working men and women of state government, higher education institutions, and public service workers get better pay, better health care, better retirement, and a healthy work environment. Recently, our team negotiated the biggest across-the-board raises in our history for over 40,000 members and we're not looking back! There's more to accomplish, and with the right personnel, we believe we can accomplish it. Come join our team and be a part of a larger mission that will make an impact for years to come. Learn more about who we are at: wfse.org.
What We're Looking For:
The Washington Federation of State Employees (WFSE) is seeking qualified candidates to fill the role of Public Affairs Assistant. Reporting to the Public Affairs Director, the Public Affairs Assistant is primarily responsible for developing Council 28's internal and external organizing field campaign materials. This position coordinates the planning, developing, organizing and production of communications vehicles for internal and external organizing campaigns in the multi-media communications. This position is primarily responsible for overseeing special organizing projects of the Public Affairs Department and other Council 28 departments and programs; advising, coordinating and producing projects and materials with and for WFSE members and staff, state employees and allies. The position works directly with the Public Affairs Director, external organizers and internal council representatives to develop materials needed in specific workplace campaigns.
Applies consulting and mentorship skills in working with other staff, members, locals and bargaining units in producing communications vehicles to inform and engage members. Examples: working with bargaining unit members to develop materials for "issue" campaigns; working with the Legislative and Political Action Department on the Legislative Toolkit publication used for member lobby days; working with the Field Services Department and Shop Steward Committee on materials for the annual Shop Steward Conference; and working with the Members Only Benefits Committee on promotional materials.
Additional duties include:
Primarily creates field organizing flyers, posters, petitions, and other materials in support of field campaigns.

Assists on media events and activities

Assists the Public Affairs Director on: gathering and production of content (photographs, details, etc.) for Council 28's monthly 40,000-circulation newspaper, the Washington State Employee.

Assists with the regular Hotline messages, e-mail blasts, social media posts, website posts and production of the monthly YouTube/cable TV newsmagazine Our View.
Required Qualifications:
Requires a high degree of technical and creative skills in graphics and publications design such as: Adobe InDesign, Photoshop and Acrobat.

Experience using web design software and analytics.

Experience with designing and producing posts on social media networks (e.g. Facebook, Twitter).

Experience coordinating surveys using the online SurveyMonkey technology and conventional print/mail technology.

Familiar with texting technology using the MobileCommons or similar technology.

Experience using smartphone or digital camera video to produce content mainly for online and social media posting.

Good written and verbal communication skills.

May require some evening assignments and travel.
Desirable Qualifications:
Experience using Illustrator, LightRoom, and Final Cut Pro.

Experience with HTML and Java Script.

Ability to stay current with the latest communication and technology trends.
Special Note:
This position may be required to work some weekends. Travel is normally limited to the assigned area of responsibility. Must have a valid driver's license, use of personal vehicle, and valid vehicle insurance. Release of driving record required prior to interview. Out of state candidates must provide drive record at the time of interview. Benefits include annual and sick leave, cell phone allowance, medical/dental, life, and long term disability insurance, and holidays. Salary range is $60,680 – $70,245 and will be determined commensurate with experience.
How to Apply:
To be considered for this position(s), applicants must submit a resume, letter of interest, and at least three (3) professional references to: resumes@wfse.org. Your letter of interest should clearly explain how your experience, training, and education make you a viable and competitive candidate for this position.
This position is open until filled; however, first round of application assessments will be conducted fourteen (14) days after the initial job posting date. It is to the applicant's advantage to apply as early as possible.
The Washington Federation of State Employees is committed to providing equal employment opportunity and equal access in a non-discriminatory manner to its programs and services for all persons without regard to race, creed, color, marital status, gender, sexual orientation, religion, age, national origin, political affiliation, honorably discharged veteran or military status, or the presence of any real or perceived sensory, mental, or physical disability.
Persons requiring accommodation in the application process or for an alternative format may contact the recruiter Ben McDonald at (360) 352-7603 or benm@wfse.org. Persons of disability or those who are deaf or hard of hearing can call the Washington Relay Service by dialing 7-1-1 or 1-800-833-6388. The WFSE complies with the employment eligibility verification requirements of the Federal Form I-9. The selected candidate must be able to provide proof of identity and eligibility to work in the United States consistent with the requirements of that form on the first day of employment.
WHEN APPLYING: Be sure to indicate that you saw this information at UNIONJOBS.COM.